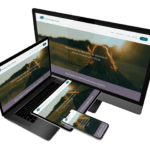 In early 2021, I built this website for a clinical psychologist opening a new private practice. With the client's input, I chose to build the site on Squarespace. I worked closely with the client to learn about her goals (attract new patients + referrals plus provide an easy place for current patients to access their telehealth sessions and records), her ideal patients (young women and teens), what made her unique, and her voice.
With this in mind, and with ongoing feedback from the client, I designed the site, wrote all content, sourced images, and designed a logo and color scheme. I also utilized SEO best practices (performing keyword research, incorporating keywords throughout the site, ensuring complete meta data, optimizing site speed, etc.) to ensure her site would show up on the first page of search engine results.
The site has received increasing traffic and my client reports receiving many new patient inquiries as a result. I continue to maintain and update the site for the client as needed.
Read More »