The Fair Housing Association of Connecticut (FHACT) is a nonprofit, volunteer-run membership association that brings together housing advocates, providers, developers, and others to promote equitable access to housing across the state. 
When we began working together in 2019, FHACT had an outdated website that was not mobile responsive. While they didn't update their site often, it played an important role as the information hub for their annual fair housing conference. 
The organization needed a modern, responsive website where attendees and sponsors alike could quickly find the information they needed, register, or sponsor the event. They also needed someone to set up online event registration and manage email marketing leading up to the conference.
With a little over two months to go before the next conference, it was time to hit the ground running!
Starting with an Existing Brand
Working with a tight budget and timeline, we decided to keep the website design simple and keep FHACT's existing logo. I used the bright blue from the logo as the main color throughout the website – and later, in other marketing – to give their digital presence a cohesive, modern look. 
FHACT's website needs were pretty simple: they just needed a more up-to-date, user-friendly site to make it easy for conference attendees to learn about and register for the event. They also needed places to share details about conference sponsorship opportunities, enable people to sign up for their email list, and post news and updates. 
I designed the new site using WordPress and managed the changeover with their hosting provider. The focus of the site is the annual conference – the organization's largest event – but I also included a simple email list sign-up form and a blog they could use to share news or updates in the future. 
I kept in touch with my contact at FHACT throughout the design process, first sending a mockup homepage to get feedback, then doing a few rounds of revisions after completing the rest of the site.
Modern Event Registration
With the new website finished, it was time to set up online registration for FHACT's upcoming conference. Until 2019, the organization had been doing all paper or manual email registration and payments. It was time for a new process!
FHACT had several specific needs for an event registration site. First, the conference registration fee varied depending on membership status, so they needed more than one registration type. Because the conference included meals, they needed a place for attendees to note dietary restrictions. They wanted to make it easy for groups to register together and give folks the option to register online but pay by check later. Finally, they needed to highlight their new event sponsorship packages on the registration site.
Because I've done quite a bit of event planning in the past, I was already familiar with the major event registration sites. I presented FHACT with several options, and they chose EventBrite.
I designed the event page header to match the look of their website and email marketing (see below). I added custom ticket levels and sponsorship packages and properly set up and tested the various payment options and accounts. I also created a fillable PDF registration form and added it to the website to ensure that companies could still register on paper as needed.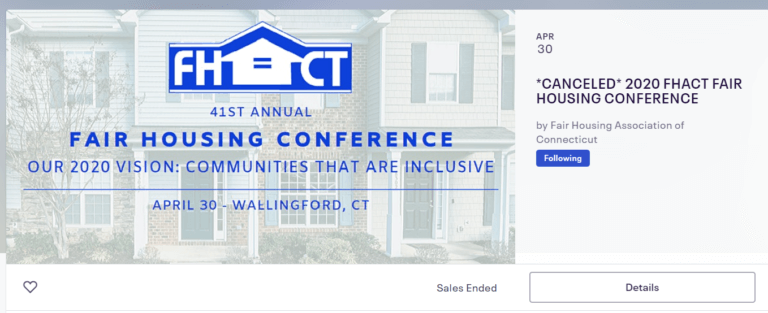 Once I had finished the website and event registration system, it was time to let FHACT members know that conference registration was open!
FHACT uses Constant Contact for email marketing. To maximize deliverability, I worked closely with a FHACT board member to clean up the existing email list and investigate past bounces. 
Then, I designed a simple email header to match the look of the website and event registration page. I wrote a series of emails announcing conference registration, sharing updates about workshops and keynote speakers, reminding folks of registration deadlines, and thanking attendees after the conference. I also reviewed bounces and maintained the list between emails.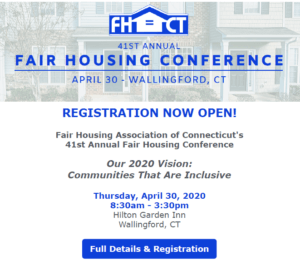 Check out the Fair Housing Association of CT website here!
The FHACT board was thrilled with their new website and modernized registration process. After the conference, FHACT reported registration had gone more smoothly than ever before.
I continue to maintain FHACT's website on the back-end and make content updates as needed, and (as you can see from some of the images above) also handled their email marketing and event registration setup the following year, which happened to be 2020… so that year also involved getting the word out about the inevitable event cancellation and ensuring that refunds were processed correctly.
I'm excited to be working with FHACT again in 2022, updating their website and managing email marketing for their first-ever virtual conference (and check out the latest email I designed for them here).
"We've contracted with Shannon for the last few years and have been completely satisfied. She has managed a complicated process for the Fair Housing Association of CT's annual conferences, from maintaining contact and membership lists to doing email blasts, assisting us with registration matters, and general website development. We just renewed her contract, so that really tells you we are very happy with our collaboration with Shannon."
Margaret Suib
Chairperson, Fair Housing Association of CT